Art Nude Photography Workshop 
Welcome to a Tropical Paradise 
Patrice Delmotte and DEA Villas will be happy to welcome you 
in Bali for an unforgettable photography workshop in the land of the Gods. 
Bali is the most popular island holiday destination in the Indonesian archipelago. The island is home to an ancient culture that's known for its warm hospitality. Exotic temples and palaces set against stunning natural backdrops are some of its top attractions. Bali, the famed Island of the Gods, with its varied landscape of hills and mountains, rugged coastlines and sandy beaches, lush rice terraces and barren volcanic hillsides all providing a picturesque backdrop to its colorful, deeply spiritual and unique culture, stakes a serious claim to be paradise on earth. With world-class surfing and diving, a large number of cultural, historical and archaeological attractions, and this is one of the world's most popular island destinations and one which consistently wins travel awards. Bali has something to offer a very broad market of visitors.
The Workshop  
The Workshop Photo will be with nude Balinese models. We will shoot in day time in the tropical gardens of the villas and underwater in the pool. We will also use the studio light at the fully equipped studio of DEA villas. Any kind of camera, even smart phone, will be welcome as we will give priority to the artistic aspect of photography: 
- How to compose 
- How to use the clear obscure (in studio and with natural light)
- How to catch the right Movement
- How to direct a model
- How to select and edit your photo (Crash course of Photoshop, correct small defect, Color or Black & White, Preparation for printing)
- What to do with your photos
This workshop will be tailored according your request (number of nights staying at the villas, number of models, and so…).
Many tours and activities can be organize for non-photographer and family member.
 Please contact us.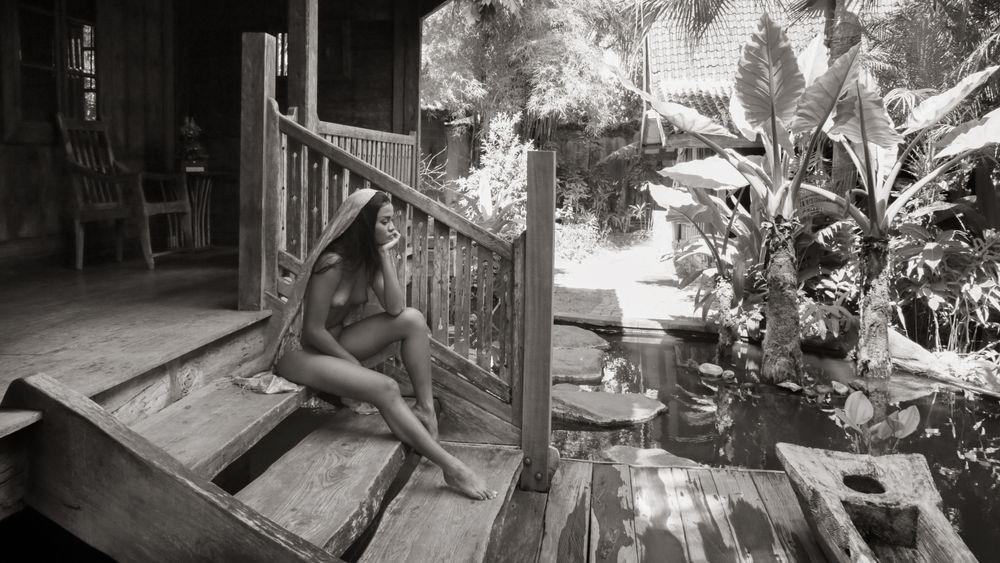 CONTACT ME 
Please Click on the logo above
Four glorious residences
     Dea Villas is four glorious residences – two 4-bedroom, one 3-bedroom and a 1-bedroom villa – make up the Dea Villas estate, an exclusive enclave five minutes from Berawa Beach and only 15 minutes from the buzz of Seminyak.  Each is secure in its own garden with pool and outdoor pergola or balé, and enjoys shared gym, spa, and children's playground facilities.  Each has its own character and style, from ultra-contemporary to whimsical heritage chic, enriched with hi-tech facilities including iPod docks and home theatre systems.  Best of all, they can be rented separately or together, meaning Dea Villas can accommodate guests in many combinations, from a honeymooner couple to two families in adjoining villas, right up to 30+ residential guests for a wedding celebration.
     Dea Radha 1 bedroom - Over a century old, this teak Gladak was once a home to Javanese royalty. The house presides over a serene water garden and is entered via a meandering path set in the still waters. The comfortable gazebo is positioned next to the freeform swimming pool in a secluded private section of the magical gardens and is interconnected with the dining room.
     Dea Amy 3 bedrooms - Villa Amy comprises three pavilions spread out over a series of terraces, separated by pools and lily ponds and linked by a covered walkway lined with antiques and artifacts. From the traditional Balinese entrance, lava-stone steps lead across an ornamental pond to an open-sided living pavilion facing the swimming pool and sun terrace. Lower down, reached via further steps over cascading ponds, is the stand-alone guest bedroom suite, while up on the highest level, opening onto a terrace and pond above the pool, is the master suite and a twin-bedded guest suite.
     Dea Sarasvati 4 bedrooms - Villa Sarasvati comprises a large living pavilion and a two-floor building arranged in an L shape around a 20m swimming pool looking onto rice terraces. The open-plan living pavilion has a formal seating area with doors onto a covered open-sided garden room, a dining area and, across a bar counter, the guest kitchen and second service kitchen behind. In the second pavilion, which is fronted by a covered terrace on both floors, two ground-floor master suites flank a central 'art-gallery' foyer leading to the main entrance. Stairs lead up to the second level where two more guest suites and a family TV room open onto the terrace.
     Dea Sati 4 bedrooms - Villa Sati comprises a series of individual pavilions, well screened in delightfully established gardens. The largest of these is the open-sided living pavilion, which looks over an amphitheater style performance space near the large free-form swimming pool. Encircling the pool are four joglo pavilions, each housing a bedroom with garden bathroom and sun terrace. Among these is the sixth and smallest building – an antique lumbung (traditional rice barn) which doubles as a playhouse.
     And Dea Boutique, SPA, Gym, Sauna & Children Playground…